JARED EVERETT | West Marin
On a sloping, tree-lined hill overlooking the Pacific Ocean, Jared Everett lives in a little cabin of curiosities. Among his possessions are a stuffed pheasant, a Swiss army pony-hair backpack constructed from wood, metal, and leather, a 1926 Webster's dictionary that weighs six pounds, and two Bengal cats Oscar and Monkey, whom Jared counts as important inspirations. One enters through a fully stocked kitchen—there is a coconut on the countertop—and proceeds past a floor-to-ceiling bookshelf (mainly novels and art books), through Jared's sewing room—where a gold-framed portrait of a mustachioed man hangs over an industrial Singer sewing machine—and into the living room, which is teeming with all kinds of strange artifacts and ephemera. What might otherwise be construed as chaos if the objects were any less extraordinary in fact appears poignant and nostalgic, with the air of authority and wonderment that antique stores inspire. Henry Thoreau once wrote, "Why do precisely these objects which we behold make a world?" and one might ask the same question here in Jared Everett's marvelous little world.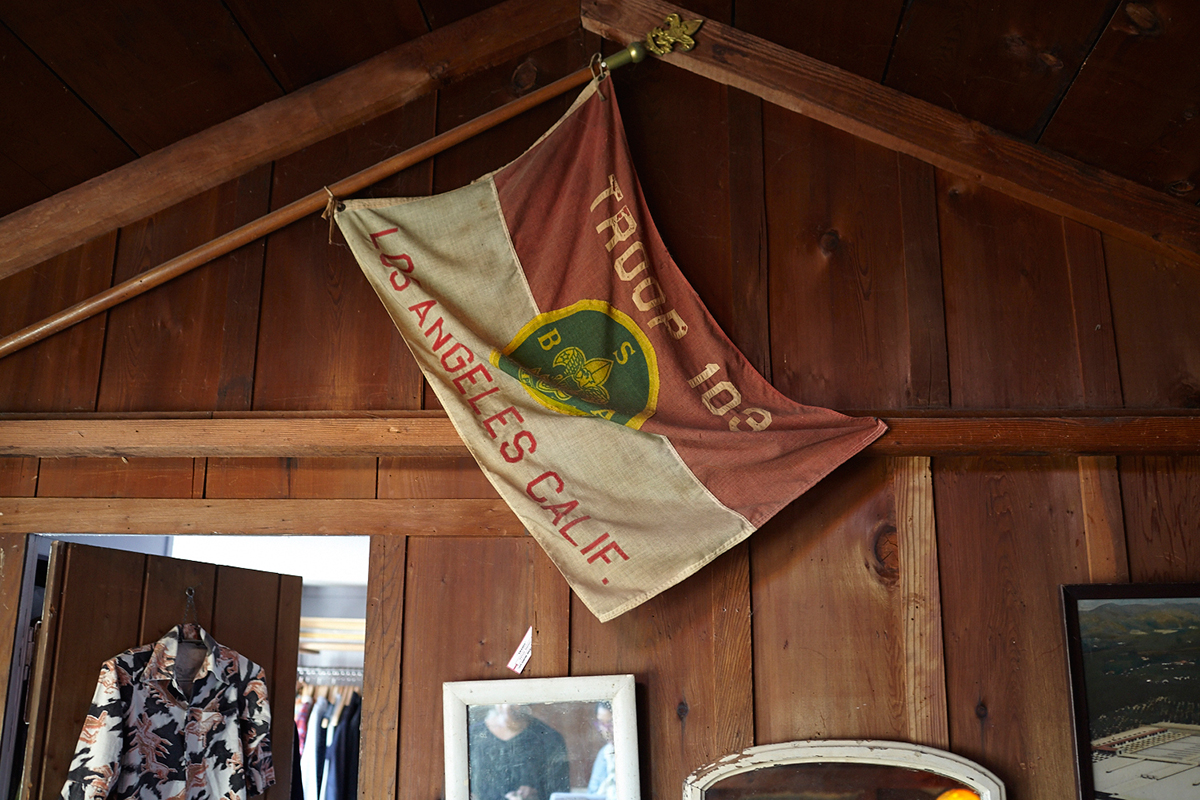 "Henry Thoreau once wrote, "Why do precisely these objects which we behold make a world?" and one might ask the same question here in Jared Everett's marvelous little world."
It is clear from this array of relics that Jared has a particular affinity for the tangible: objects and their narratives that become extensions of our selves, mementos of the past but that become a part of us through acquisition and possession. Jared, whose cherubic face and disheveled, wavy, shoulder-length locks belie his age, explains that he's obsessed with details. He's more interested in the way things are made than the things themselves. These are the sensible words of a man who has dedicated his life to craft. Jared is the head tailor at Levi's, and his daily commute is a motorcycle ride from Bolinas to the Levi's Plaza store in San Francisco. There, he reclaims, recycles, reinterprets, and refits old Levi's and vintage fabrics into one-of-a-kind pieces.
He grew up under the tutelage of his grandfather, who used to make bags and shoes for the Freemasonic Shriners in Pennsylvania. After studying at the Berklee School of Music, he landed a job at Mister Freedom, a Los Angeles brand with a cult following. After five years as a craftsman there, having built up his skills and improved his craft, he moved from Echo Park to Bolinas. He has spent the past four years "taking things apart and putting them back together," a tinkerer's favorite pastime. He takes this approach beyond clothes—to machinery, music instruments, and motorcycles.
Jared is obsessed with quilts, an obsession that is not only an intersection of his interests in craft and old objects, but also a case study in his affinity for imperfection. Beyond his living room, a door that blends into the unfinished wooden walls opens into his bedroom, which is a contained wilderness of clothes, fabrics, and textiles. On his bed is his favorite quilt, which is two-toned and polka-dot-patterned, with circles and squares, made in 1847. "Do you see how the circles don't line up? And how the stitching is imperfect?" He points out all its irregularities while speculating about the girl who made it. "It was probably her first quilt. She was probably a young girl, maybe 12 or so." He holds up a corner, where the color scheme changes from navy and white to pink and white. "This is my favorite part, where she ran out of fabric and had to change color schemes. I like that it's imperfect," he says. He likes that the quilt was made by a human hand, and that its material imperfections are real fossils of tinkering and craft.
"What are you collecting these days?" I ask him. "I've been really into collecting vintage underwear," he answers. "New old stock of course," he clarifies. "Like Fruit of the Loom underwear from the 1960s, that hasn't been opened or worn."